Back in 1936, a South African-born British entrepreneur called Billy Butlin opened his first holiday camp in Skegness. His vision was to offer affordable, all-inclusive packages that included accommodation, food and entertainment for all ages and classes…and so the craze for UK holiday parks began.
Fast forward to the 80s, the allure of holiday parks had begun to fade. A growing appetite for exploration and sunnier shores led individuals to broaden their horizons, seeking out exotic destinations steeped in diverse cultures, cuisines, and climates.
The dawn of cheap package holidays meant air travel was no longer a privilege confined to the wealthy and, as a result, holiday parks began to be viewed in somewhat disparaging terms – people were no longer enamoured with knobbly knees competitions on rain-soaked beaches and rusty old caravans with dubious outdoor toilets. They wanted something new.
However, in a world thwart by rising costs in living, it would appear the tide is turning once again. If 2022 and 2023 data is anything to go by, holiday parks are making a comeback in the UK, and, in some cases, even overtaking foreign holidays in terms of demand and popularity.
Butlins is still a major player, but we also have the likes of Haven, Center Parcs, Hoburne Holidays and Parkdean Resorts offering a wide range of holiday packages to suit all tastes, interests and budgets (the latter posting a 54% jump in revenue in 2022 from the previous year).
But how did we get here? And why are certain locations in the UK proving more sought after than others? Let's take a closer look at this fascinating trend.
Holiday park search trends UK 2022 – 2023
A lot has changed over the last year or so.
Even before the pandemic came to an official end, geopolitical tensions and security concerns as a result of Russia's invasion of Ukraine has meant we've seen a restriction on airspace and an escalation in fuel costs.
Increasing inflation rates have also led to the soaring costs of air travel to the extent that the price of package holidays in destinations like Greece, Spain and Turkey has jumped by up to 25% and faster than current UK inflation rates, according to TravelSupermarket.
Throw in additional issues caused by Brexit and things are looking far from rosy for holidaymakers looking to escape these shores for Europe or further afield.
So, where does domestic tourism, particularly holidays to UK-based parks, fit into this changed landscape?
While the UK travel and tourism industry hardly escaped unscathed from multiple lockdowns and inflation rises, there is evidence to show growing demand for holidays closer to home, with the likes of Butlins surpassing Disneyland Paris and Disney World in terms of interest online from UK consumers, particularly since the peak period of the pandemic.
The Google Trends data below reflects this shifting trend.
The first image demonstrates search volume for the three resorts in the two year period prior to Covid-19. Note how interest in Disneyland Paris and Butlins are fairly evenly matched, with Disneyland Paris rising above Butlins at various points during the time period:
But now look at the data from January 2022 to the present day. Butlins generally displays higher search volume for the duration, with Disneyland Paris edging ahead less frequently than in the 2018 – 2021 data above:

If we take a wider view of some specific holiday park locations (we split these by county in the next section) and review the absolute number of searches (see graph below), we can see that whilst July 2020 was a noticeable anomaly (due to pent up demand), 2023 is looking very promising for holiday parks in the UK, with monthly volume being at a 4 year high.
UK holiday park trends by county
Let's dig a little deeper and break down by county the search volume data for a range of holiday park hotspots.
The counties that we've picked frequently occur in lists of popular UK holiday destinations, but let's see which of these destinations has seen the biggest shifts due to the growing demand for UK holiday park getaways.
The resurgence of UK holiday parks – which counties are seeing the biggest rise?
(Scroll through the images for Ayreshire, Cornwall, Cumbria, Devon, Dorset, Fife, Kent, Norfolk, Northumberland, Pembrokeshire, Suffolk, Yorkshire)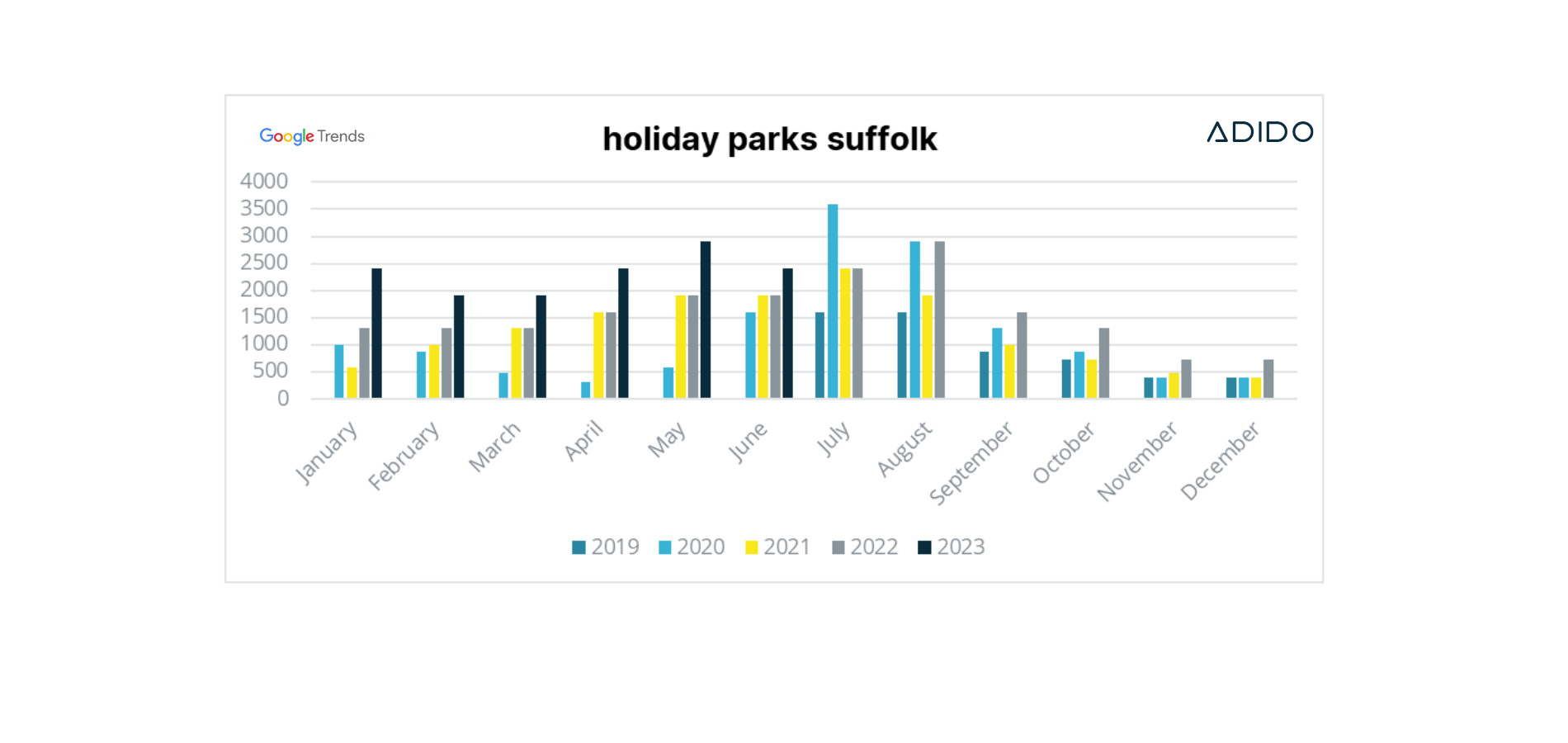 Data headlines
Jan – Jun 2023 compared to last year
Counties with the biggest growth
Ayreshire (+90% YoY) and Kent (+81% YoY)
Scotland's largest holiday park Craig Tara in Ayrshire is currently expanding to accommodate up to 150 more caravan pitches in response to demand. This may be as a result of Ayrshire being closer to home for those in the northern half of the UK, but the subtle rise in temperature - a consequence of climate change - might also be making Scotland just that little bit warmer for holiday makers (still best to pack several fleecy jumpers and thermal undies whatever the season though).
Kent has seen a huge increase in search volume over the last year (across all months). This may indicate that this location has become more popular or visible among holidaymakers in recent years, perhaps as a result of stronger marketing campaigns or maybe due to holidaymakers looking for destinations that rival Cornwall's stunning coastline and scenery (but not its high prices).
Other regions like Cumbria and Pembrokeshire have also experienced +50% increases, possibly for similar reasons.
County with the biggest interest
Cornwall (+57% YoY)
Cornwall's popularity is head and shoulders above the rest, and whilst it has a modest 57% rise YoY in search demand, this does equate to nearly 79k more searches – more than most regions see in a year!
The region may be affected by reported higher costs in comparison to other UK resorts; difficulty in finding availability in peak summer months; or simply due to demand and interest rising in other areas.
It's certainly far from a grim outlook for Cornwall's holiday parks, though. The term holiday parks cornwall still has the highest search volume among all the locations analysed, with an average of 49,500 searches in June 2023 alone. This demonstrates that Cornwall (and the South West as a whole) is still very much the most popular destination for domestic travellers, with tourists keen to enjoy its stunning coastline, countryside and attractive seaside villages.
Counties with more modest rises
Yorkshire (+51% YoY), Norfolk (+44% YoY), Suffolk (+49% YoY) and Dorset (+30% YoY)
Holiday parks in these counties have seen a moderate increase in search volume in the first half of this year. This may indicate that these locations have maintained or enhanced their reputation and quality as holiday destinations or have perhaps just benefited from the increased demand for domestic holidays due to the pandemic and other factors which the whole sector has experienced. All offer the UK holidaymaker stunning scenery, attractions on the doorstep and the chance to relax and unwind. They can't guarantee the weather will be kind though!
UK holiday park trends by county and by audience location
So where is this interest coming from within the UK?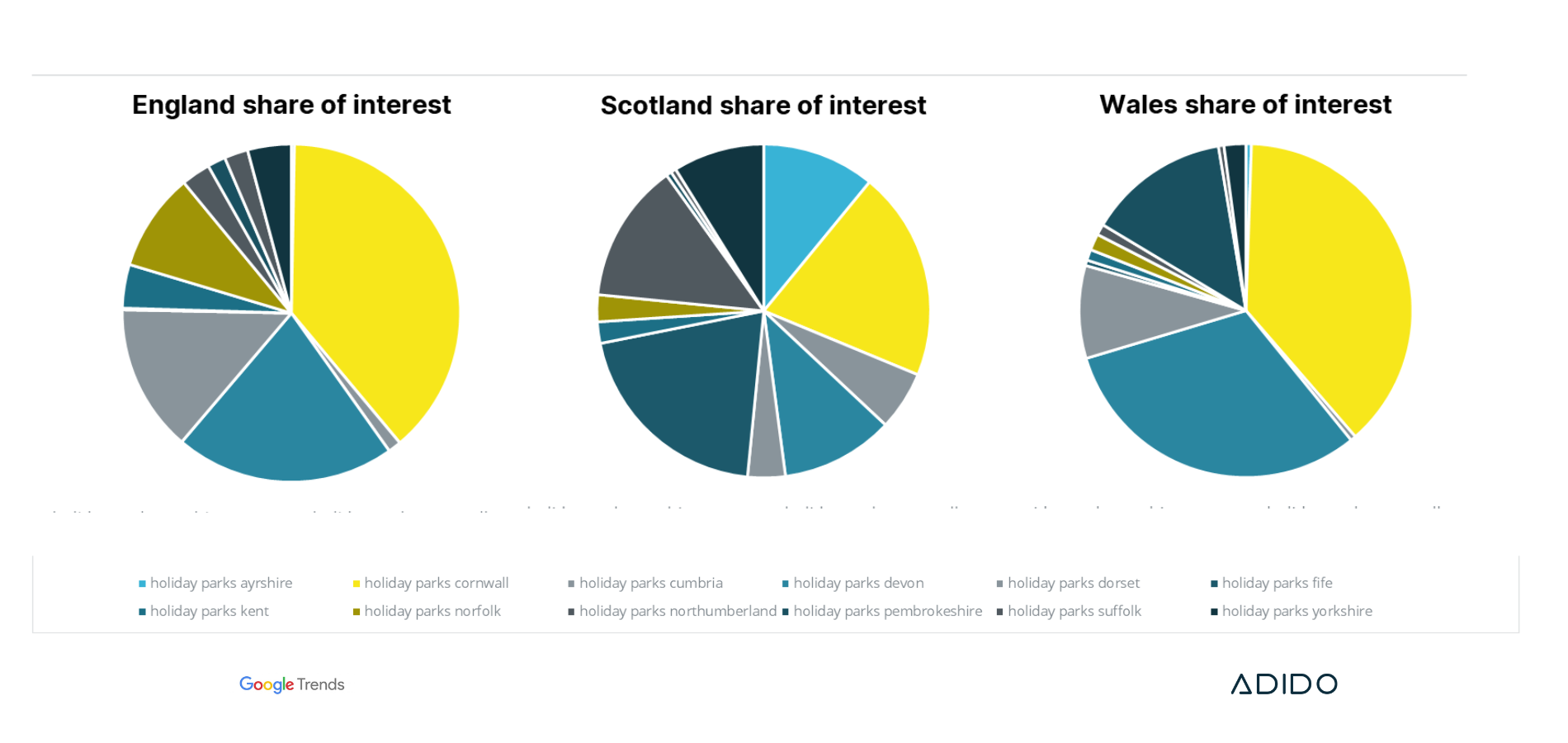 It's unsurprising to learn that Cornwall and Devon are the most popular counties for holidaymakers in England and Wales accounting for more than 50% of all search interest. Whereas Scotland not only over-indexes for Ayreshire and Fife (true staycationers), but locals are also willing to make the trip from one end of the British Isles to the other and visit Cornwall too! Scots don't seem as eager to visit our lovely county of Dorset though, with only 4% of their search demand looking for holiday parks in the county.
Note: this analysis doesn't drill down into specific towns and cities (e.g. holiday parks bournemouth) which may be more popular in search results compared to county level targeting.
If you're interested in finding out more about popular search terms it might be worth having a chat to see what other insights we could generate for your business.
UK holiday park trends by brand
When it comes to the impact this might be having on holiday park businesses, the results are very mixed. Search demand can be influenced by marketing campaigns, and without being privy to their marketing plans it's hard to assess whether demand is changing because of consumer interest in holiday parks, or because the business has proactively tempted them to visit.
Nonethless, some of the biggest names in the industry have seen their search demand change significantly over the past few years. At a glance, there is a big separation between the largest brands and the smallest with avg. search volume ranging between 3,000 and 450,00 per month.
The nationwide holiday park brands
Centre Parcs, Butlins and Hoseasons
These holiday parks seem to have seen consistent search demand over the past few years, with very little indication that they've significantly benefited or suffered. Their universal appeal or national recognition has possibly made them more immune to market factors.
Only Q2 2020 proved an issue but we were in the midst of lockdowns and uncertainty.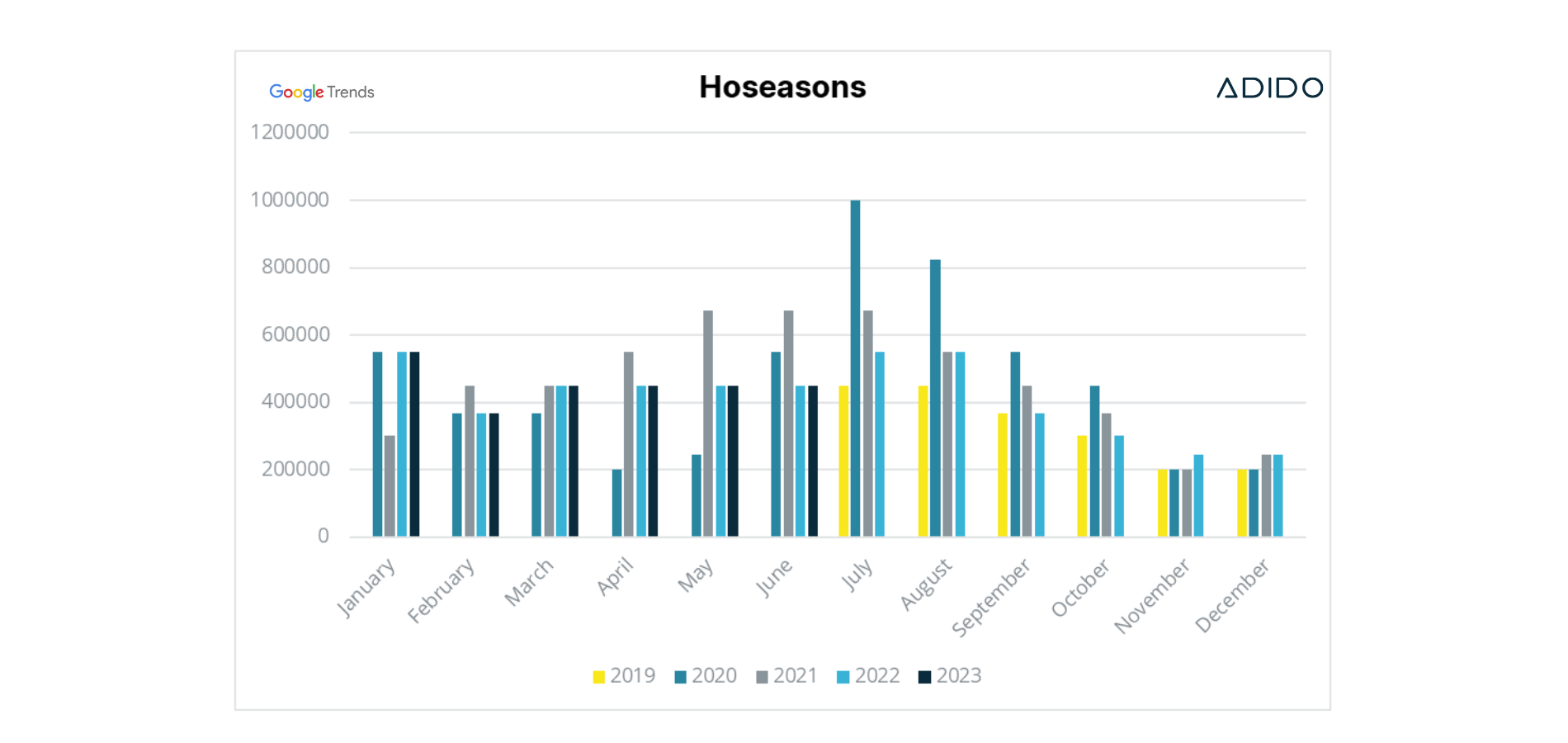 Mid-tier holiday park brands
Haven Holidays, Parkdean Resorts, Forest Holidays and Pontins
These businesses have experienced some YoY growth, especially during Q1. Haven & Parkdean's 2022 popularity looks to have continued throughout 2023, whilst Forest Holidays had a significant surge in January. Perhaps as a result of ToY campaigning (repeating what they did in 2022 as it performed well?) Sales promotions and above the line TV campaigns no doubt helping to generate interest and demand.

Regional holiday park brands
Hoburne Holidays, Away Resorts, Shorefield Holidays and John Fowler Holidays
These holiday parks have also seen improved search volume in 2023, although their own marketing and regionalised holiday park locations might have contributed to the interest received.
Away Resorts is showing promising YoY growth throughout the first half of 2023, whilst Shorefield Holidays has typically been more sought after this year.
Hoburne Holidays, like many travel and leisure businesses potentially invests heavily in January to generate early bookings, but hovers around 5k searches per month until the Autumn when interest drops off.

Whilst the size, scale and location of holiday parks will contribute to the overall search demand for a particular business, it is clear from these graphs that they're all pretty much benefiting from increased appetite to holiday at home. Hopefully other parts of the user journey are slick and effective to ensure that they turn searches into clicks into bookings!
Growing interest in adult-only holiday parks
Holiday parks are not just a family affair. More people are searching for adult-only locations for their getaways than four years ago as search volume trends have shown. In July 2019, the term 'adult holiday parks' had an average search volume of 10. In July 2022, that figure had leapt to 320 – an increase of 3100%!

Okay, so not as eye watering as the search volume for holiday parks in general, but a pretty big shift in interest nonetheless.
There are several factors that may have contributed to this trend, such as:
The desire for peace and relaxation: many people experienced increased levels of stress and anxiety due to the pandemic, lockdowns, rising cost of living and family pressures. Adult-only holiday parks offer a peaceful setting for adults who want to unwind and recharge, away from the noise and disruption of children.
A cheaper option than travelling abroad: where couples might have once flocked to Paris for a romantic getaway, or stag and hens might have headed for Amsterdam, Barcelona or Ibiza, spiralling airfares and lengthy airport queues have motivated adults to look closer to home for a child-free break.
The demand for quality and service: expectations have risen among many people who have saved money during the pandemic and are looking for a treat or a reward. Adult-only holiday parks tend to have higher standards of quality and service, catering to the needs and tastes of discerning adults.
Compete and capitalise: How an effective marketing strategy can elevate UK holiday parks
The rising popularity of domestic holidays will no doubt be music to the ears of holiday park owners and operators who felt the brunt of the pandemic's impact. But with increased demand inevitably comes increased competition, so to capitalise on recent trends, it's essential for holiday park operators to have an effective digital marketing strategy in place, for the following reasons:
To maximise online visibility and awareness among potential customers who are searching for holiday park options online.
To build reputation and trust among existing and new customers by providing useful and relevant information, reviews, testimonials and content.
To generate more leads and enquiries by creating compelling and engaging landing pages, offers and calls to action.
To convert more bookings by optimising website design, user experience, booking process and payment options.
To retain customers by providing excellent customer service and after-sales support.
Adido case study: Hoburne Holidays - a data-led strategy to drive bookings for multiple holiday parks
Pre-pandemic, Adido had the pleasure of working with southwest-based holiday park operator Hoburne Holidays. The company approached Adido to help them organise and analyse their booking data (which was in a bit of a muddle) to better identify key booking insights and patterns. Through meticulous analysis and evaluation, the Adido team was able to present the client with daily and monthly SEO and PPC reports that detailed insights into what, when and how people were booking holidays with Hoburne. This became instrumental in prioritising SEO tasks and determining how the paid search budget was allocated.

As a result of the improved marketing strategy, Hoburne Holidays achieved consistent performance improvements in the proceeding years.
By the end of 2018, they exceeded their sales target by 6%, beating 2017 by 14%. They also achieved top rankings for 'holiday park + location' search terms on Google and saw a 37% increase in sales revenue from SEO.

What this case study demonstrates is that by using data-driven insights, strategic planning and innovative optimisation techniques, holiday parks can reach more customers, increase their bookings and subsequently grow their business.
Final thoughts

In this ever-evolving industry, UK holiday parks are currently riding a wave of popularity, redefining the image of 'staycations'. While we may never return to the glory days of the 50s and 60s, from the shores of Cornwall to the highlands of Scotland, people are showing a growing interest in homegrown escapes and adventures – and this trend looks set to stay, at least for the foreseeable.
Yet, this resurgence underscores a challenge as well as an opportunity - to remain competitive, park owners must maximise their digital presence, understand and analyse the preferences of their guests and continually seek to build their brand.
As we navigate this new era of domestic tourism, holiday parks have the chance to rewrite their narrative, transforming from a nostalgia-laden relic of the past into a popular, lucrative go-to vacation choice for years to come…whatever the weather.
(Main photo credit: Photo by Sarah Doffman on Unsplash)