Our PPC services
Improve your brand's pay-per-click strategy and up your ad campaign game with our PPC services in Bournemouth. Our PPC services include, but are not limited to:
PPC advertising is important for many online businesses who want to make the most out of their budget and attract the right audience at the right time to ad campaigns.
Why choose our PPC agency in Bournemouth?
Our PPC team has many years of experience in helping clients to expertly structure their ad accounts, increase revenue and boost their return on investment. Our PPC team's extensive knowledge means they understand the relationship between multiple paid channels, and how to construct a strategy that will not only deliver the results, but have the scope to scale up as your business grows.
We take a bespoke approach - your business needs are unique, and we will advise upon the best course of action. Honesty is also our policy, if a channel won't work for you, we will say so or we will find an alternative channel that will. We take a data-driven approach in our PPC services to inform each of our decisions and ensure that the right audience is targeted in an effective way.
We work closely with our clients throughout PPC campaigns, providing regular updates and progress reports on performance. We pride ourselves on our communication skills, which we feel is an important part of achieving the best results for your business.
Psst ...
We're experts in forecasting PPC performance, in fact, we regularly get forecasts for our clients correct to within 1% of targets!
Our PPC experts in Bournemouth
With years of experience in creating competitive and click-worthy PPC campaigns that see great results, our team of PPC experts know exactly how to help your brand stand out from the crowd.
They dedicate their time to creating the best ads for your target audience, checking in on the performance of ad campaigns each day to make sure they're busy driving traffic to your site and increasing sales.
Meet our amazing PPC team
Our PPC services in Bournemouth
Search advertising
We create ad copy which demands attention and bid strategies that target the right audience at the right time. We also use Remarketing Lists for Search Ads (RLSA) to maximise your impression share and drive more traffic to your site with Google Ads (Adwords) and Bing search ads, helping to increase sales.
Amazon advertising
Our PPC experts know how to use the Amazon advertising platform to get you the best results from your campaigns, helping to increase your sales and improve your ROI on one of the world's largest e-commerce stores.
Shopping ads
Our shopping ad campaigns (including smart shopping, standard shopping and display remarketing) are optimised to launch e-commerce businesses to the top of the shopping feed, improving your online visibility to an audience who are ready to make a purchase.
Display ads
From videos to interactive ads, we craft creative display ads that capture attention and ensure they're reaching the right people in all the right places.
Apple search
Got an app designed for iOS devices that you want to see get more downloads? Our Bournemouth PPC experts are experienced in developing Apple Search Ads (ASA) to increase your app's visibility in Apple Search.
Google ad scripts
Save time, better your paid advertising strategy and improve ROI with Google Ad Scripts, where time-consuming tasks can be automated and we can help you to win control over your ad campaigns.
Remarketing
Goodbyes are tough...but with our remarketing strategies, you can regain your previous customers and site visitors through focussed remarketing advertising, improving your online conversions.
Consultancy, audits and training
Want to improve your pay-per-click advertising game but don't have the resources to invest in full PPC management? We can help! We can provide bespoke training sessions, account audits and consultancy services where our team of Bournemouth based PPC experts will share their knowledge to help you improve your future results.
Programmatic display
Boost the effectiveness of your ad campaigns by automating the process of purchasing and effectively placing ads on a variety of channels to reach your target audience. Whilst automating the purchasing of ad space saves time and effort, you'll also need a team of PPC experts to oversee its success and keep everything in check.
What our clients have to say...
"Since working we Adido we have seen consistent growth across our paid search and shopping activity, due to this upturn we have increased our annual targets but are still confident the team at Adido will be able to use their expertise to achieve them."
"Adido are a very attentive team, quick to respond, experts at what they do, generating the best possible results and coming up with ideas of new things to try and better ways of doing things."
The best PPC services Bournemouth has to offer
Pay-per-click advertising is incredibly competitive and can see tremendous return on investments for businesses. Our team of PPC experts are Microsoft Advertising Partners and Premier Google Search Partners who strive to maximise digital marketing strategies and tailor each approach to the client's specific needs. Through effectively structuring ad campaigns and reducing the cost per click (CPC) and cost per acquisition (CPA), we boost your brand's profits so you can see a positive ROI.
Whether you're looking to increase sales in your shopping campaigns or raise brand awareness through social media advertising, our PPC team are the ones for the job; they're even willing to share their knowledge which has been built over years of experience with you in bespoke training sessions if you're not looking for full PPC management.
We offer award-winning PPC services in Bournemouth and the whole of Dorset, but we also provide PPC services across the UK. If you'd like to improve your brand's pay-per-click strategy, get in touch with our PPC experts today!
Address: Wilson House, 2 Lorne Park Road, Bournemouth, Dorset, BH11JN
Telephone: 01202 586300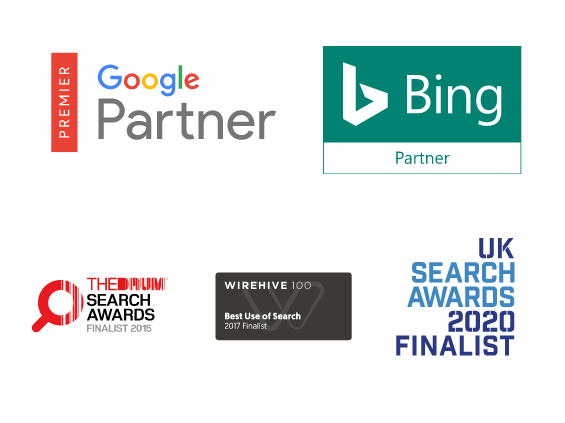 Our PPC experts share their knowledge