Should your business advertise on TikTok?
Let's talk about how TikTok changed the social media landscape and what your business may lose if it is not on TikTok. We will show you what other brands are doing on TikTok, what are the best practices in terms of creatives (directly from TikTok account managers), what are the yes's and no's in terms of how the creative should look like (with examples) and what you can do to take advantage of this opportunity.
TikTok took the social landscape by storm and became a significant player in the social media and advertising space.
Consumer behaviour has changed over the last 2 years and subsequently the way people are consuming content nowadays has also shifted.
TikTok came into the arena at a moment when consumers were ready to shift to a brand new way of social media.
As a business you need to pay attention to how your prospects are consuming content so that you can meet them where they spend their time the most and offer them the type of content they want to consume to gain their attention.
This is also important from an advertising point of view, as the success of any advertising campaign on social platforms is directly impacted by how people are consuming content, what they are engaging with, and on what platform they spend their time.
Here are some statistics about TikTok so that we can start our conversation using data.
TikTok has seen a huge growth over the last few years - 59.8% growth in 2020, followed by 40.8% growth in 2021.
TikTok reached its 1 billion users milestone in 2021 and is set to continue its growth in 2022.
In the UK, TikTok currently has over 20 million active TikTok users and they tend to spend 66 minutes a day on the app.
The average engagement rate for the app is 29% and it's the 7th most used social media app in the world!
The app gained popularity due to an algorithm that allowed creators to reach exponentially more people than other platforms and serve users exclusively with the content they like the most, prioritising short, simple and unedited content.
This way, people felt they could be themselves and still be successful, without hiding their true nature behind posh Instagram snaps or opinionated Facebook communities.
What could your business lose if it is not on TikTok?
As we may all know, one of the most important things that contribute to the long term success of a business is its ability to observe how their prospects buying behaviour is evolving and its ability to adapt in order to meet that need.
As a result, if your audience is on TikTok, you need to be there too. And not only that, but you need to learn how to deliver the right message on a platform that is totally different from what you have been used to.
If you are not on TikTok, your audience will buy from your competitors who are now on TikTok.
And also, from an advertising point of view, there's now a big opportunity to reach your audience in a way that is both efficient and effective.
Why is advertising on TikTok the best opportunity since Facebook Ads was launched?
Do you remember the days when you could literally sell anything on Facebook for pennies?
This is exactly what is happening now on TikTok, for these 3 reasons:
There are fewer advertisers on the platform - so the competition is low and the feed is not yet oversaturated
Users are usually much more engaged with the content. The ads, done correctly, can perform much better than on any other platforms
The cost is lower compared with other platforms - we tested a Facebook lead generation ad compared with a TikTok lead generation ad for the same brand, at the same time. Facebook: £7/lead, TikTok £1.19/lead
From an advertising point of view, TikTok is just starting out. It hasn't even brought out the big guns yet. We only need to look at how the app evolved in the Chinese market, with features like in-app buys, in-video ads, splash ads (which play an ad for a few seconds when you start up the app) to picture how it will evolve for the western markets.
Why is Advertising on TikTok so different from other platforms?
To successfully create ads on this platform requires a complete shift in mentality.
The TikTok ads team recommend that the ads should be as similar as possible to the organic content.
What does this mean exactly?
Ads should not be brand heavy
Ads should feature normal people in normal life situations
Ads should be recorded with a mobile phone and look as organic as possible
Ads could follow trends, feature influencers, actors, customers, brand's employees, all in a normal environment, having normal conversations, with no heavy edits
In short, ads should be able to blend in and not be too disruptive for the everyday TikTok user.
Can you spot the difference between these ads and what you are used to seeing on other platforms?

Answer: TikTok ads are featuring normal people in real life situations. There is no heavy editing and no aspirational standards as we can see on Instagram for example. The recording is not landscape but vertical with a resolution of 1080x1920.
Big brands like Samsung, Amazon and Redbull have already jumped into TikTok Advertising but what are the positive and negative takeaways?

A sneak peek into TikTok Creative Center showed us what ads are performing the best in each country, which advertisers are rocking it based on their reach, engagement and CTR

Here's Adido's take on these top ads.
We will show you a few examples of great ads that are native to the platform and a few that although they have a great reach, they are not recommended as they are not native to the platform.
These 3 ads are examples of non native ads that are currently doing well from a reach point of view, but engagement is unlikely to last.
What we can see is that their creatives are not looking very native, as per TikTok best practice recommendations and they are not blending with the organic content on the platform. The majority of these ad creative seems to be made with content repurposed from other platforms that is not native to TikTok and it looks so different from what users are used to consuming on this platform.

Although they get a high reach at the moment due to high budgets, the engagement is low and we think that in time, once the advertising on this platform will become more competitive, their performance will drop due to low user engagement.

These 3 ads are examples of native ads that are recommended on this platform and have the highest chance to do well
We can see that these ads are following TikTok best practice recommendations, they look and feel organic, follow trends, use normal people in normal life situations, they are not brand heavy and they have as little editing as possible.
These are positioned in the top 5 in the UK based on CTR. People are engaging with these ads due to their native look and entertaining way of presenting a product.
Why we think it's time to include TikTok advertising in your multi channel advertising strategy.
Here are the top 3 reasons:
"TikTok Advertising'' had a huge growth in searches as a keyword - as per Google Ads Keywords Planner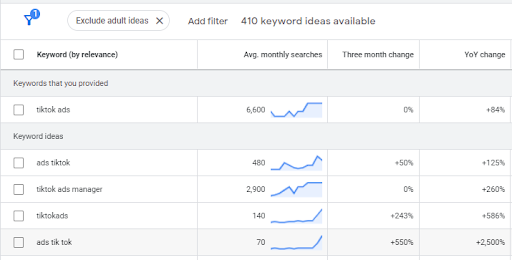 Big brands are already jumping in - so don't wait until the market is oversaturated
There are many opportunities to stand out on this platform as not many agencies/marketers are mastering TikTok advertising as yet
5 steps to prepare your way to advertise on TikTok
First, become a TikTok user yourself and learn more about the platform
Follow 5 -10 influencers/brands/hashtags in your industry so that you can see trends and content types
Start planning your content ahead and take every opportunity to record real life moments from your business - that can subsequently be used in future TikTok content
Make a list with the problem you solve for your audience and the solutions you provide as a business - that can be used as ideas for TikTok videos in the future
Reach out to experts/marketing agencies for TikTok ads management offers

To conclude, if we were to answer the question "Should your business advertise on TikTok?'' our answer would be…"you should consider testing it if your audience is using the platform'".

TikTok is a new platform experiencing huge growth and has excellent potential for reaching audiences in a fun but effective way.
We know there is no one size fits all solution, each business is different, with different objectives, different audiences and different challenges but sometimes it's worth trialling something that is less conventional. If in doubt, get in touch and we can have a conversation about your marketing challenges.