Have you recently heard the last Google announcement about automatically creating a new GA4 property for you? (Starting in March 2023)
That sounds like great news, right?
In theory this can be good, but it's not that straightforward. In fact, it looks like if you already have one Google Analytics 4 property configured, Google can update it too with your old UA settings. Let's deep dive into what Google's announcement means and what your options are depending on how far you are through the GA4 migration process.
Google can link your existing Google Analytics 4 to your Universal Analytics property.

Let's start with something I have recently seen on lots of our GA4 client accounts: this new popup:
Have you also noticed it?
It basically tells you that if you are migrating from Universal Analytics, you can connect it to your GA4 property by selecting it in the dropdown list. Which allows Google to copy some of you existing settings and configuration from UA to GA4 based on the GA4 Setup assistant list.
If you've spent some time reading about differences between Google Analytics 4 and Universal Analytics you should know how different these tools are. And if you haven't started yet… well I would highly recommend stopping what you are doing and start now!
Friendly reminder: your UA property will stop working in less than 5 months.
So, my question is, why would you want to connect them if they are so different? I would personally advise to keep both properties separate to avoid any automatic changes from Google. Specially if you have some custom settings, dimensions, etc. Therefore, you keep the control on your own setup.
To do that, let's go back to this popup and select 'No'. This will let Google know about your preferences. And if you want to give them a reason, feel free to do it too.
And voila!
Well, not really…Google also mentioned in this article that if you don't create a Google Analytics 4 property, they will create one for you based on your UA configuration, and other features like your goals, audiences and Google Ads links.
Should you let Google create an automatic GA4 property for you?
Well… it depends! I would say it depends on how you currently use your Google Analytics.
If you have a very basic usage of your Universal Analytics, and you are only analysing the default data as page views, bounce rate, number of users and don't have any specific event or custom dimension implemented, then, it might be the easiest way to transition to Google Analytics 4 if you haven't done so yet.
However, you should get more familiar with all the new GA4 definitions and disparities in terms of metrics, reporting, etc… You can start with our range of GA4 tips and tricks articles or consult the various collection of Google documentation like this one.
On the other hand, if you have started to work on migrating your Universal Analytics to GA4, or you're already migrated, you don't want Google messing with your hard work.
Even Google itself is recommending migrating to GA4 before it creates an automatic one for you... "For best quality setup":
So, if you are in this situation and you don't want to let Google create a new GA4 property on your behalf, you must opt-out before March 2023.
You will be able to do this by going to your main UA property. In the admin section, under the GA4 Setup Assistant, disable the "automatically set up a basic Google Analytics 4 property" block.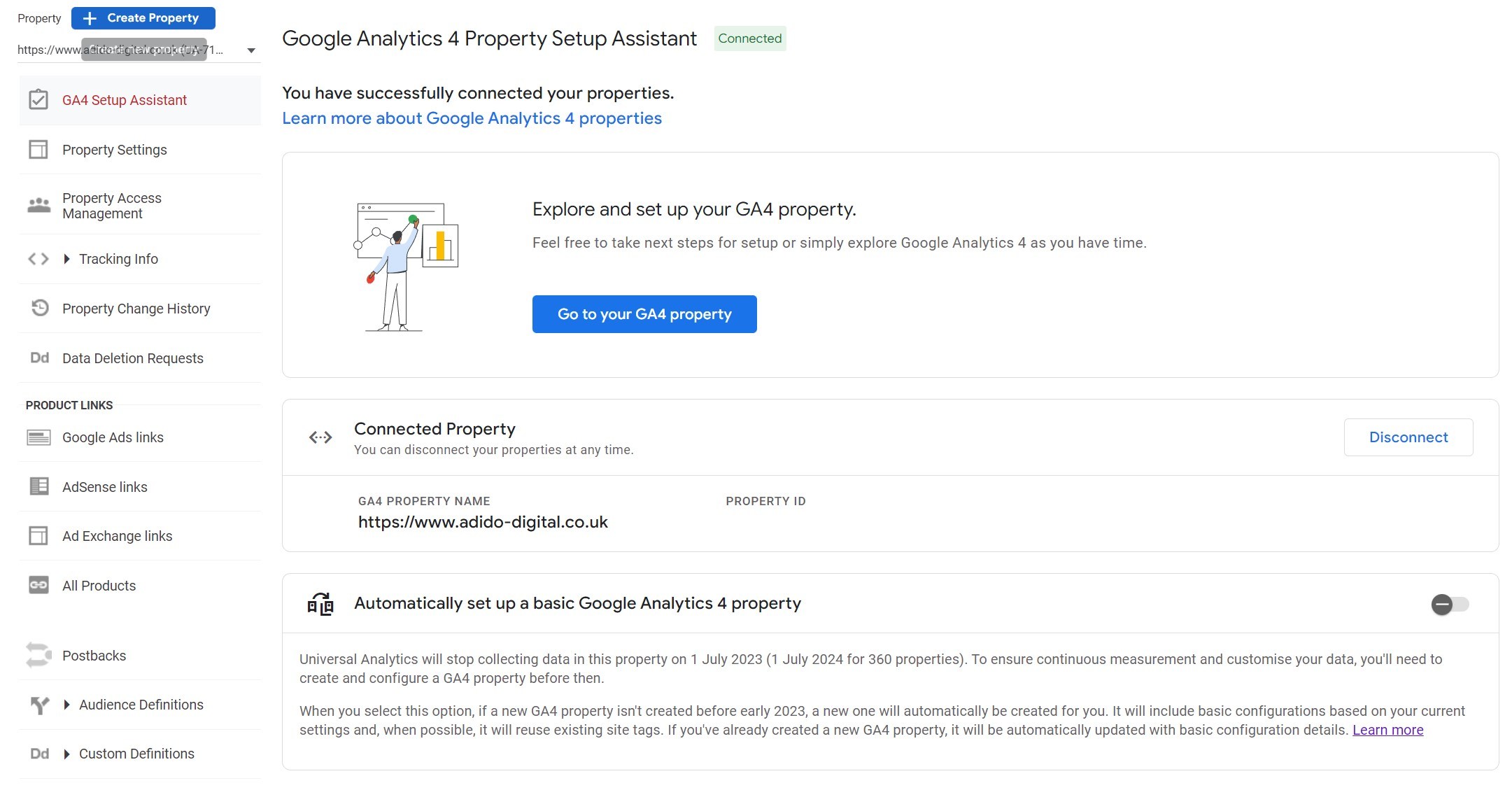 This way, you can be sure that Google won't create a new GA4 property for you or update your existing one.
You may notice that there is also a 'not connected' or 'connected' status in the Google Analytics 4 property setup assistant of your Universal Analytics account. You can see this at the top of the page (and also in the screenshot above). It's not essential to have the two profiles connected, and with the risk of Google automatically updating your shiny new GA4 profile (with potentially polluted settings from UA) you may be wise to keep them disconnected. So this one is up to you, they don't have to be connected, but depending on your set-up process they may be anyway. Just make sure you disable the 'automatically set up a basic Google Analytics 4 property' block.
I am going to leave it there and we will be back with more GA4 tips and tricks next week. Stay tuned!