Google Analytics has had a facelift. It's the most significant upgrade to the analytics product for almost a decade, and one which is bound to send marketers into a frenzy as we all try to re-think digital measurement and get used to new ways of doing things.
Okay, so no-one usually likes change, and I can remember the pushback in 2012/2013 when Google introduced Universal Analytics. Back then, unlike now, the upgrade was mainly focused on the code base, and if you didn't spend much time in GA you may have not noticed some of the subtle differences in the reporting interface.
Fast forward to 2020, the year of unprecedented change, and Google has only gone and set loose their vision for the future of analytics, to add to the turmoil and chaos. I spend my life working with Google Analytics' data, and Google Analytics 4 is certainly a big change - both in navigating around the interface and working with the data that is presented.
I'm going to caveat the rest of this blog and say that I am extremely fresh to Google Analytics 4, and this is being written totally in the wake of getting my head around what it is, how it's set up and what pieces of information are available. I have by no means mastered the platform (it's only be available for a few weeks!), and currently I'm still sceptical about it. But then if you get the chance to set-up your own profile, you'll get to experience first-hand what I'm on about - nothing like diving straight in!
What's on the new Google Analytics 4 homescreen?
Greater emphasis on (new) user behaviour

Engagement metrics have been placed front and centre
Sessions and bounce rate have been demoted or disappeared
Report sub-navigation / lenses has been split into lifecycles, users and events
The 'PR' positives

Google Analytics 4 is a re-branded version of the App + Web property that was launched last year to help businesses who have both web and app versions of their website to unify their data and offer a set of common events that can be measured across both.
Now I must admit, I am less familiar with App + Web property profiles, so perhaps Google Analytics 4 is even more alien to me because of this. That being said, I have read that Google Analytics 4 will be the default option when you set up any new property and new feature development will purely be focused on GA4. So regardless of whether you have an app or not, this will become your default profile set-up from here on in. Brace yourself!
Google Analytics 4 is favouring engagement rate, and shifting focus away from sessions and bounce rate.
This sets off mild hysteria as sessions are a stalwart of most client reports. Marketers like to know how much traffic their site receives. Whilst GA4 doesn't do away with session counts, it has certainly de-prioritised them in their reports and placing less emphasis on it implies that we should be re-thinking what KPIs are important.
I've always been less of a fan of bounce rate because I feel it's regularly been mis-understood when drawing insights from the data. But all the same, I'm sure many marketers have bounce rate targets they're working on, so it'll be time to re-think these soon.
The four key report segments place emphasis on user behaviour and their involvement in the customer lifecycle. The report lenses are now focused on Acquisition, Engagement, Monetisation and Retention.
The definition of an engaged session is the number of sessions that lasted longer than 10 seconds, or had a conversion event, or had 2 or more screen or page views
Event tracking has always been an important but sometimes tricky thing to set up. Fortunately Google Analytics 4 has made event tracking codeless in many cases. Yes, you will need to set-up some custom events, but you'll be surprised by how many are tracked automatically.
This is probably where I am most baffled at the moment. Since GA4 has taken it upon itself to auto-track events like pageviews, scrolls, video plays etc without the need for additional event tagging, determining what needs to be manually set-up vs. what is part of the auto set-up is confusing. I have to admit I've not truly got my head around this yet but I've made a start…
On our Adido GA4 profile, events such as scroll, click, view_search_results and video_progress all appeared automatically. I had to manually set-up our blog_timer recording and sign_up submissions on our newsletter form, I assume I will have to do the same with our contact form goal tracking.
Help guides for event tracking - all from Google Analytics

Event reporting view - most of these were automatic

Google Analytics 4 is also opening up the realms of possibility in predictions and AI-powered insights. However, this is met with some scepticism - should a biased platform like Google (which has its own agenda on monetising its own products) be in such a position of powerful influence? Proceed with caution...
GA4 allows you to automatically find insights, anomalies and make projections, an example being its ability for it to alert you to surging demand for a product you sell, which I think is very useful.
We haven't captured enough data, nor implemented e-commerce tracking yet to see this sort of power in action yet, so we can only rely on those who have been beta-testing.
The advanced warning of things to think about
Having set-up GA4 profiles and played around with the data in the interface here are some pre-warnings of things that really will require a change of thinking.
It's a new data set altogether
When you set-up GA4 you will have NO historical data in the reports. So the sooner you start setting this up, the more information you will have for comparisons and trends.
Transitioning to Google Analytics 4 is not actually an upgrade to an existing property, it's the creation of a new property altogether so you'll have dual tracking in place for a year or more in order to get comparative data
No goals, only conversions
I cannot fathom out goal tracking. The substitute for this appears to be labelling certain events as conversions, but I can't see how to segment these any further. For example, for our clients we have different goals for different form submissions, but to GA4 the submission itself is the event regardless of which form. So I'm still getting my head around this, and reaching out to the community to get a better understanding of the best way of applying this. When we have more info, we'll share it here.
Configuration needs more how-to guides
I think it's wise to get a GA4 profile set-up ASAP if you haven't already, but there is currently a lack of help articles (which make sense to a non-techie!) on how to configure the platform to suit your needs.
Knowing that, just implementing the main snippet of code isn't enough to glean the best insights for your website/app. Considering the event-driven nature of the platform, it is obviously advisable to ensure Google is tracking the right events. No-one really liked (or understood) the Smart Goal in Universal Analytics, so I'm sure there are some dubious events being tracked in GA4 as well.
My exploration into ecommerce tracking still needs to happen. One thing's for sure, it's not an automatic data capture!
Be prepared for how uncomfortable navigating your way around it is
For those of you just getting to grips with the standard (Universal) Analytics version, I'm sorry, but this interface is radically different. I'm a seasoned Google Analytics user and I keep visiting the interface, wondering where I should go, and often abandoning because I'm just not sure of what the information in front of me is saying to me.
Perhaps I'm trying to find the upgrades and the substitutes, rather than seeing it for what it is, a completely new way of looking at web analytics. Yes, some of the metrics, dimensions and labels already mean something to me, but perhaps in this context their meaning is something else? Only time will tell...
Despite all this, if you're ready, here's how to get started
Let's face it, we need to embrace this new platform, so may as well start sooner rather than later!
You will be setting up a new profile in your Google Analytics account, so the data will collect independently from your existing GA activity, and will not stop your existing report from collecting data.
In the admin section you should see a feature which says 'Upgrade to GA4' under the property section. Don't be alarmed, clicking this will not affect your existing account.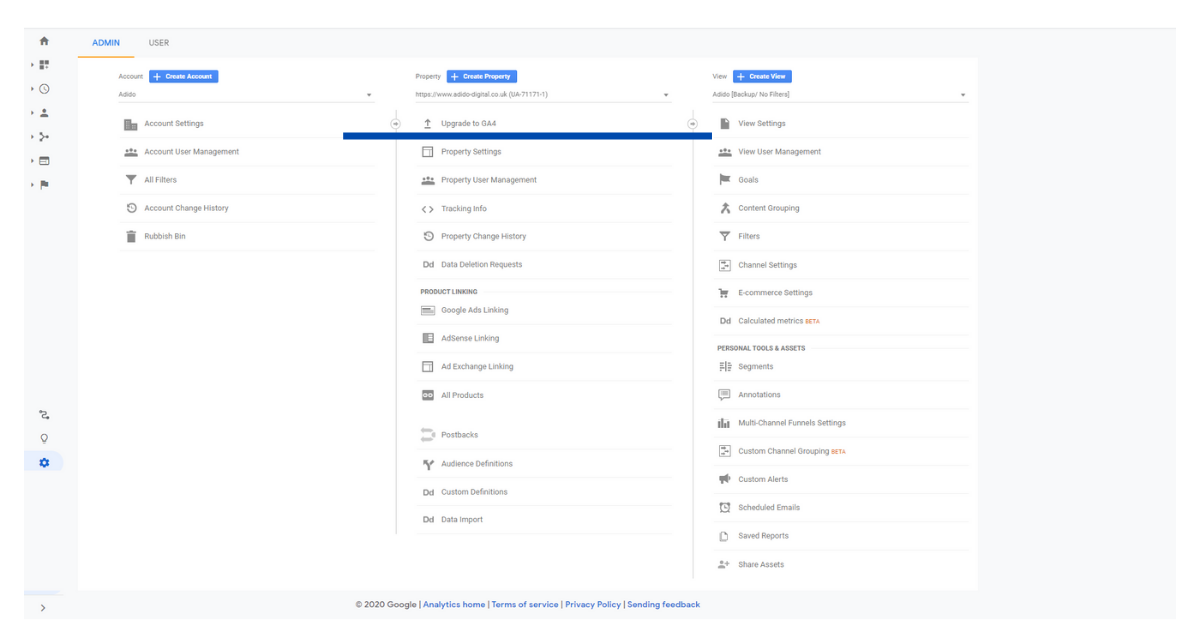 You have the option to:
I need to create a new Google Analytics 4 property (choose this one)
I want to connect to an existing Google Analytics 4 property
Follow the set-up wizard
You can use Google Tag Manager for quick installation and no involvement from a web developer required (as long as GTM already present on your site), or you may need to get a developer involved.
Extract the web stream details, by taking note of the measurement ID. You will need this in GTM.
In GTM you will notice a new Google Analytics: GA4 Configuration tag type. Add your measurement ID, and apply the trigger in the same way as you've triggered your Universal Analytics tag (incl. cookie control) and publish.
Review the auto-tracked events, and follow these steps to see whether you should enable enhanced measurement, introduce recommended events or create custom events.
Full implementation guidance can be found here.
Then, sit back and wait for the data to start populating. I've noticed quite a few helpful people have already started creating guides for setting things up on the platform. They're far ahead of me, so I'll be joining you in reading what they have to say and improve my own configuration.
If you feel ready to take the plunge into Google Analytics 4 - good luck! We'll learn as we go together.
Further updates will be shared on our blog once we've got to grips with the configuration and understand the reports better.