Over the past few months we have been sharing some of our insights into creating successful email marketing campaigns. In the third part of the series, it's time to look at a range of examples across a variety of companies who are using some of the best tried and tested tips for success, and why.
In part one of our journey about effective email marketing, we talked about 'The importance of data and targeting', including the first steps to review, refresh and plan your next email campaign/s. We explored the importance of understanding and mining your data, segmentation, and how to maximise its use to add significant value to your campaigns.
The second article of the series covered an even deeper dive into data, exploring the benefits of 'the holy grail' of a single customer view (SCV).
Now we fully realise how extremely useful it is to understand the data we hold, and how to maximise its use, it's time to see some of our ideas in action.
Here's a selection of some of our favourite emails we've received over the last few months, and why we think they are effective.
1. Small Luxury Hotels of the World
Although this global B2C company has rebranded since this creative look, the strategy behind their successful email marketing campaigns has more or less remained the same.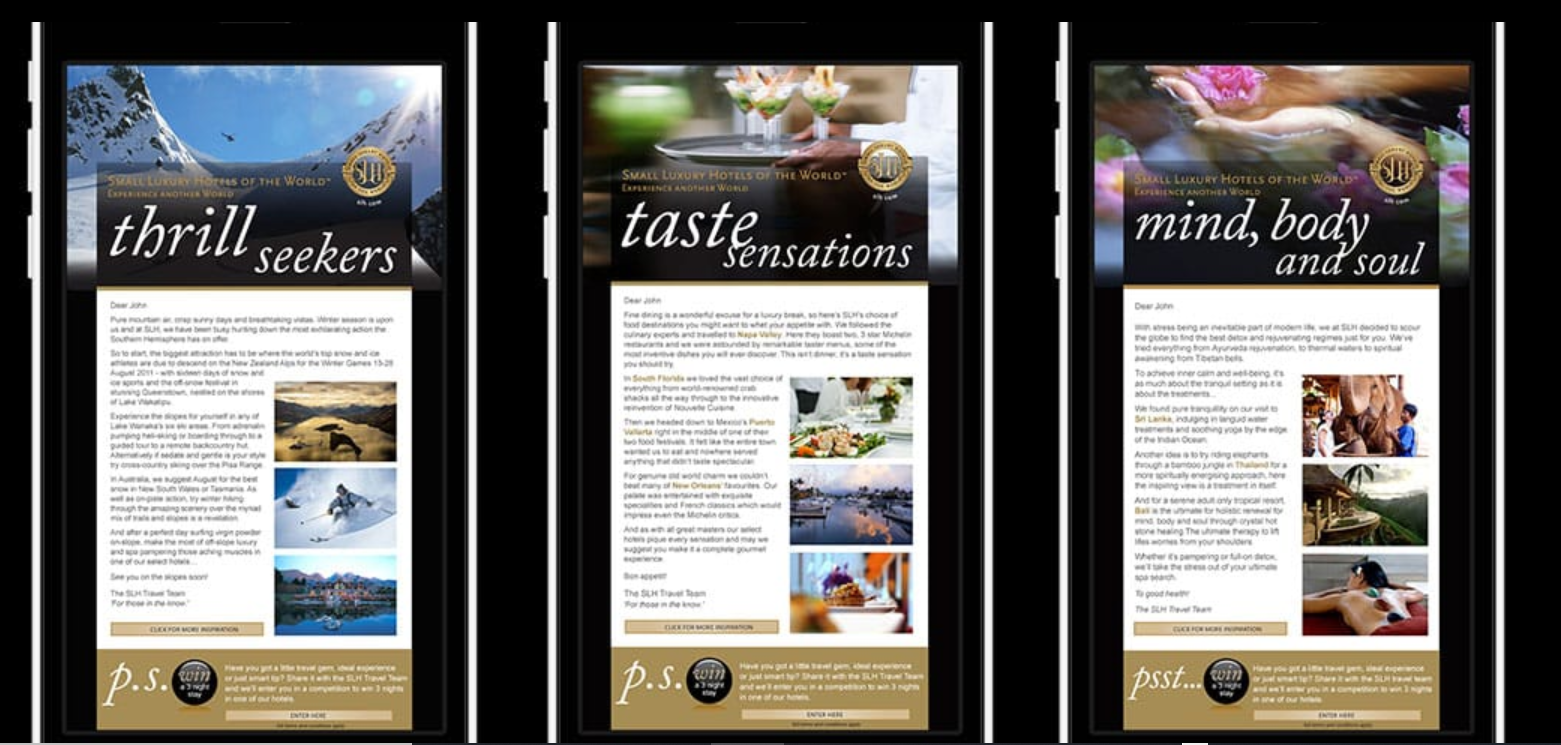 They are super smart when it comes to gathering data, holding invaluable SCVs in the Salesforce platform, which enables the team to create highly targeted messages based on previous bookings, preferences, time of year, location, length of stay, estimated budget; even down to minute details such as pillow preference.
Through utilising the knowledge they held, coupled with beautiful, luxurious and inspirational creative, within the first year that they took this approach they had grown revenue from this channel that totally exceeded their targets.
2. Wayout Consulting (B2B)
'Cold' emails which somehow manage to grab the attention of the recipient can present more of a challenge. Unlike the B2C example above, it would be highly unusual to have any particularly useful data about the potential customer, and cutting through the clutter can prove almost impossible.
Wayout Consulting used a very bold subject line in a recent email which was 'We hate little pricks.' This certainly caught our attention, to the point it was shared around the office!
So whilst they may lack the customer data to support their messages, and also considering the limited creativity in the actual look and feel of the email, they've certainly managed to develop an eye-catching strategy which we're sure will have achieved a respectable open and possibly click-thru rate.
However, we would highly advise treading with caution if considering following this approach. It works because it's being sent to other agencies, but could offend many industries, and groups of consumers, as well as be deleted instantly for fear of spam!
3. Voyage Prive
Back to another B2C example, and another great example of messaging, creative, collection and use of data. Voyage Prive's impressive model tempts potential customers with phenomenal price savings on luxury holidays around the world. To access their offers is simple, all you have to do is provide your email address, upon which you will be sent a 'Welcome' message. Plus membership is free, and feels exclusive, so you've got nothing to lose.
However, when you enter onto their webpage, without any pushy sales tactics, they politely ask if you'd like to tell them a bit more about your preferences, for which they promise tailor-made offers that they know you'll love. There is no obligation to do so, but as there isn't any 'catch', and because they are a well-established and reputable brand, we'd imagine their success rate of gleaning additional information for their SCV is high, which in turn can generate targeted email campaigns which are highly more likely to drive sales.
We also love the clean, luxury creative (even when coupled with massive price discounts, they manage not to make the product look cheap), and the simplicity of the customer journey. It's definitely not 'Au revoir' to Voyage Prive in our opinion!
4. Adido
We decided to include one of our own newsletters in this article, and this one in particular was a huge success for us.
We certainly 'practice what we preach', and are constantly analysing the data we hold concerning our subscribed contacts, and how we can best deliver relevant and educational content to reassure both clients and prospects of our expertise in the digital marketing arena.
Through consistently tracking open rates, click thru rates, who is engaging, day of send, and relevant messages for the audience, this newsletter was one of our highest performers in the last 12 months.
Of course there is no doubt that the subject line 'Why Google is now your enemy' will have piqued interest for the vast majority of people in the digital world. But it was also helped by the fact we survey, listen and record what our base want to hear about, and are constantly looking at how we can best utilise the data we hold. We also consider what we could do to glean more knowledge about what people want to learn about on order to be pro-active with our campaigns.
5. Erudite
Another agency newsletter, this time from the renowned Erudite.
Although the creative is simple, the reason this caught our eye was the personality included within it, by having it written in the first person, introducing himself. It almost feels like the writer is having a personal chat with you, and you are compelled to keep reading. Bravo Erudite!
6. Wayfair
Now a hugely well-known B2C brand, sometimes it's worth asking when do emails become too frequent that the customer is put off from a potential purchase? This is an example of potentially what not to do.
One of our team was recently in the market for a hallway shoe cabinet. They had found one they liked on Wayfair, but were waiting until the end of the month (and payday!) to purchase.
Since their initial search and clicking through the shoe cabinet offerings, they have literally been emailed on a daily basis, mostly with the same featured products, just an alternative subject line. As it happens, we know that this person has opened each email (they are in marketing after all!), so it could be that Wayfair have set up an automation that they must still be interested, so keep sending variants of the same message.
However, this could have a negative effect... There are similar shoe storage cabinets available elsewhere, the customer could even have already purchased one from an alternative provider. And as a busy person, get so fed up with the constant emails clogging up their already bursting at the seams inbox, simply choose to unsubscribe. Frequency of messages needs to be constantly assessed to make sure you've hit the optimum number of emails to secure a sale.
7. Ebay and AliExpress
Two similar models, with very uninspiring creative, but it does work because the messages are so relevant.
In this instance, global player Ebay are recommending products similar to the one you were looking at recently that have come on sale. AliExpress have a model where they offer products related to the one you've just purchased.
Whilst not rocket science, and most probably by automation, we know that the person who received these emails acted on them and made a purchase from each one.
8. Experian
The all important credit score, and the highly renowned and respected Experian. Sadly, we end the story with an email which did exactly the opposite to what was intended.
Every month the recipient received this monthly email notification, it was positive, until suddenly this landed in their inbox. As no changes to their financial circumstances, spending, borrowing or anything at all had been made in the month, the recipient emailed their customer service team immediately to enquire why the change of status. They received no response, and have since ended their account, cancelling the £14.99 revenue that Experian were taking monthly for their service.
Moral of the story is, be ready to respond and react swiftly to any messages you receive in return to your emails, especially if it will effect your ROI.
A final thought
A marketer who is skilled at email marketing, coupled with the right platforms for your requirements will maximise the effectiveness of your campaigns, ensuring that you are working to the optimum ROI. They will have extensive knowledge of the 'toolbox' of ways to build a strategy for this channel, create and manage your campaigns to deliver results.