Traditional marketing for FMCG brands is dead. Old techniques can no longer inspire a digitally savvy, fast-paced audience.

For food and drinks brands, there's a new web generation hungry (excuse the pun) for cutting-edge ideas that simply have to go beyond a product or service.
With an audience always a mere pocket move away from being online, in-house and agency marketers need to be more creative than ever; personifying brands into having an online personality.
Marketers have had to shift from repetitive techniques, to more fluid ones, thinking outside the box for unique strategies that will grab the attention of a consumer's mind and wallet.
What is FMCG content marketing?
Although a 'buzz' word of the past few years, content marketing still remains a vague and uncertain term.
The ultimate marketing goal of any content strategy is quite simply, to capture the attention of a target audience.
Content marketing with viral aspirations aims to:
"become so contagious, they cannot be controlled."
It is evident that companies are still pushing out sales-y, textual content, hoping that an (obviously uninterested) audience will one day wake up and feel the need to read an article on summer discounts.
Instead, algorithm changes over the past couple of years have dictated audiences' interests to be the top ranking factor. (Although some marketers would argue that audience interests should have always been the focus..!)
This shift in algorithm encourages FMCG brands to be constant, unique and valuable. Standing out in a saturated market has become more important than ever.
Great content will inevitably attract an audience.
Relevant, great content will attract a target audience, and a potential fan base.
It's this type of audience that will also be interested in future content pieces and accept the brand as a trusted and informative source of wanted information.
This long term relationship can then be peppered with compelling reasons to purchase and convert readers, to buyers.
How to create an FMCG content strategy
By providing valuable content to an interested consumer, it then becomes easier to translate compelling sales messages.
Knowing the right channels, approach and the type of content that will resonate best is unfortunately down to a suck-it-and-see strategy. What works for one brand may not work for another as it's dependent on your unique audience. You'll need to start the conversation and see where it flows to next...
There are, however, fundamental steps any food and drinks marketer should consider.
Our advice:
Always research your customer base.
Any brand needs to establish three very important and fundamental aspects, before launching into whacky ideas generation (these are platforms, formats and trends).
As food and drink brands are renowned for having excellent customer engagement, continually researching the market becomes more important than ever to know what your customers are actually interested in.
Platforms
It's good practice to regularly investigate where the target audience are 'hanging out' online.
It's key to remember that trendy platforms change and evolve with shifting audience interests and new generations.
"How long ago was it that you revisited your platform choice and reviewed your strategy?"
If you're looking for help with FMCG content planning, get in touch with one of Adido's content experts today.
Free tool, Fresh Web Explorer is a great place to start to begin tracking brand mentions and conversations online. Any brand can then begin to build a picture of a target audience's conversion hubs.
It's extremely important to establish from the outset the social platforms to be used to publish content as they each have their own community guidelines and distinct user behaviour. It's important you align in order to be successful, but also be open to adapting should your audience take you into a new environment.
Building a product's online presence via the correct social platforms can do wonders for general brand visibility.
You should look at your social profiles and see where you're already getting good follower numbers, but also what platforms are getting engagement. Engagement rate stats can help you compare between platforms. If some platforms are under-performing don't be afraid to retire them in favour of the ones that are working really well - it's exhausting trying to keep all platforms up to tip top condition, and a neglected presence can often be worse than an absent one.
Formats
It's also important to research the types of content formats brands should be producing to hit the right audience.
For example, a 12-year old girl interested in following and engaging with a fun drinks' brand, would not be interested in reading a whitepaper about the benefits or background of the product. She may, however, be more interested in a video or game…
The right format, hitting the right audience, can naturally spiral.
Here are a few formats to consider when considering the creation of compelling content ideas:
It's critical to judge what can be achieved according to capacity and time available.
Some formats can be very effective, but require a high level of difficulty to create i.e requiring lengthy interviews and specialist knowledge.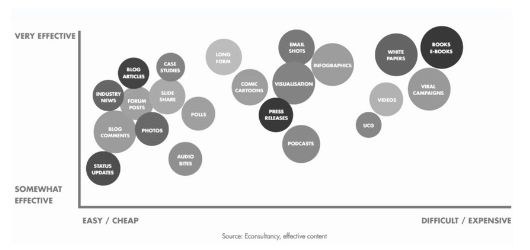 Trends
Using industry tools, it becomes easier to get a grasp on consumer trending keywords that could be used when planning and brainstorming content ideas.
The Google Trends Tool highlights related searches regarding content topics and queries that could be applied to any plan.
e.g. "tea" in UK, 2014
In the same way, the Google Keyword Tool can provide insights to monthly search volume, e.g. "tea"
Search volume and competition score can then define achievable content topics when considering hugely searched for but not very competitive terms.
In the example above, Chinese or black tea could be an achievable topic to include as a static element in any content plan for a tea brand wanting to rank for these terms.
After you've researched platforms, formats and trends, it's always good to do your competitor research to find out how similar brands have achieved success.
FMCG B2C strategies tend to focus on video and social content, in order to be as shareable and consumable as possible.
Skittles daily lifts social marketing
Skittles, or the official Tweeter of awesomeness according to their social account has an award-winning social personality and a healthy 215,000 followers to endorse.
Having researched into their audience, and the impact of a pack of skittles, the Twitter channel imitates sweets by giving its audience a little 'lift' through words, rather than sugar.
Filled with random, unique and whacky statements, the channel regularly speaks directly to its audience.
The channel is ultimately an extremely 'positive experience', with Skittles often picking out audience members to congratulate them on how amazing they are.
The channel works well at giving the audience quirky proclamations, peppered with sales messages.
Walkers Twitter & interactive video campaign
Installed at three London bus shelters, the tweet activated vending machines featuring Gary Lineker became part of the promotion for Walkers 'Do Us A Flavour' campaign in 2014.
The clever campaign reacted to situations around it, including holding up signs for 'your bus is here' and encouraging people to tweet in order to receive a free packet of crisps.
The realistic virtual Gary proved immensely popular, and established Walkers as a leader of the pack in regards to their digital innovation.
Fanta comedy Vines
Fanta has cleverly adopted the 'newer' social platform Vine, in order to produce 6-second comedy videos for its on-going campaign "Fanta for the Funny".
The campaign aimed to capitalise on the target audience's sense of humour, establishing Fanta as a young, vibrant, trendy and above all, happy, product.
Quick and easy to record, the videos are short, snappy and must grab attention within 6 seconds – being straight to the point.
These videos are also not product-related, and instead give a platform to young aspirational comedians, tapping in on this fan base to ensure a following that associates Fanta with positivity.
Ben & Jerry's on Instagram
As one of the first advertisers to jump head first into Instagram ads, Ben and Jerry's posted four sponsored images on Instagram featuring its ice cream in a carton, in a cone and even as a vision in the clouds.
Although paid advertising, the creative was part of Ben & Jerry's content strategy to promote their new Anchorman ice cream; with ads targeted to users age 18–35 in the U.S.
Results so far have seen Instagram boost B&J brand awareness by 17%.
Liquid and linked content
Playing it safe with online content will invoke safe interaction
Taking a risk from time to time can mean producing something that is truly shareable and can go viral.
When planning any content marketing strategy, make sure there is a good mix of liquid and linked content.
Linked being content that is directly 'linked' to the product.
Liquid being a more relevant audience piece, that does not have sales at the forefront of its objectives.
Sales may not even be a measurable KPI from liquid content, and it may be measured by interaction and visibility alone.
Think trends, think unique
After you've done your research, understand platforms and formats, industry trends and audiences wants and needs, you can begin to plan core content that will be applicable month on month.
For example, linked content, focussing on the product itself can certainly be planned in advance. It is essential to plan content in advance that will achieve engagement for the right reasons.
However, it is just as important to not plan, and be reactive to current news and topics.
By not planning everything in advance, marketers can capitalise on daily hashtags and conversations, without relying too much on scheduling through a social aggregator.
By engaging with an audience in real time, the brand also gains a reputation for being up-to-date and 'alive'.
In May 2014, comedian Chris Ramsey tweeted about wanting #pizzaonatrain that Domino's responded to, clearly demonstrating excellent customer service.
The #pizzaonatrain became a campaign as celebrities and fans alike, tweeted 'good luck' messages in anticipation to see if pizza could get delivered to the train.

The hashtag also trended worldwide, and Domino's insisted on giving the pizzas for free to Chris to share with all passengers.
The campaign proved excellent PR for Domino's – and was completely spontaneous.
Finally, don't settle for the last success or failure.
Think new and think tomorrow.
Attracting a long term fan base requires regular interaction, fresh ideas and memorability. If you're going to embark on content marketing, make sure you're in it for the long haul and dedicate time and resource to keeping it up to date.

Content updated: 29/06/2020