The digital industry is a fast paced, constantly changing environment. If you don't want to get left behind, you need to be proactive. That's why at Adido we have values that help drive proactiveness. Two of those values are 'Educate' and 'Challenge'. We are constantly striving to learn more, educate each other and ask the challenging questions that will push our agency and our clients forward. A few of our methods are as follows:
Constant research and knowledge sharing via Salesforce Groups and Chatter.
We educate our clients with important industry updates.
Adido Time – We have specific time dedicated to testing new methods and technologies, researching opportunities and challenging ourselves to put them into practice.
The Adido Blog – Our blog is a rich source of knowledge which we use to highlight key areas of development within the industry.
We then share what we have learnt through our Social Media channels, newsletter, meetings, our awesome/leading events (LDD).
The challenge of being a full service agency is that we have a wide range of technology to keep up to date with from Google algorithms and social advertising to web design and usability technology. This is why we recruit people who naturally love the industry and want to learn. Finding people who are a natural fit to our values of Educate and Challenge ensures that everyone within the company is proactively learning and willing to challenge themselves to achieve more because they actually want to.
To be truly successful in digital, you need to adopt a 'Digital Mindset'. It may seem daunting as there is so much technology to keep up with, but if you follow the 80/20 rule and start by concentrating on the 20% that drives 80% of your business objectives, the rest will fall into place.
You need a business strategy for the digital age, if your business is thinking digital from the core then it will succeed. It's too risky not to, for example, if you rely on Google to drive traffic to your website then you need to keep an eye on what Google are doing because they can, and do, change the goal posts. We saw this in 2011 with the 'Panda' Algorithm update which hit sites hard, knocking many top ranking sites off their perch.
Expectations Are Changing
It's not just technology that changes though, people's expectations have changed too. Four years ago I was quite happy to patiently wait as my 3G slowly loaded web pages on my phone. Now, with the introduction of 4G, I have grown impatient and I do not expect to have to wait for a slow loading website. This applies in the business world too. I recently attended a seminar where the speaker wanted to show us a video clip. The clip took about 4 seconds to buffer and by the time it had loaded people were muttering and laughing at the length of time it took. I challenge anyone to not be frustrated at the sight of the dreaded 'Buffering' symbol.
Google takes their users' expectations into account, which is why they give out penalties for slow loading times and have started testing a red 'Slow' label next to these sites in the SERPS (Search Engine Results Pages). However, Google doesn't just want to punish sites and webmasters, they want to help them to improve, which is why they provide tools such as 'PageSpeed Insights' so that you can check the speed of your site.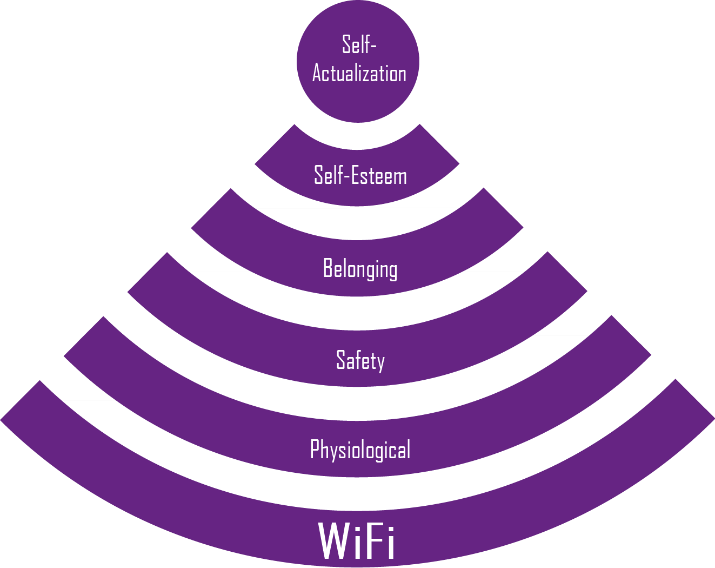 http://imgkid.com/maslows-hierarchy-of-needs-wifi.shtml
Google Is Changing
We have seen more recent examples of Google recognising users 'need for speed' with the introduction of Chrome Autocomplete Forms. If the webmaster marks up their websites forms for auto-completion, the user will save time as their information can be automatically filled in. This benefits the user as they achieve their goal quicker and also benefits the webmaster as they are encouraging quicker conversions.
Google have also updated their schema opportunities for webmasters whose businesses are event based. Users can now search for an event in Google and if the webmaster has included the events schema mark-up on their website then their events will appear at the top of the search results page, ready to be booked with the click of a button. This highlights how Google is reacting to their users desire to get things done as quickly as possible.
Social Media Is Changing
It's not just Google that you need to keep an eye on. The opportunities on social media are ever changing too. It's extremely rare that we have a client who isn't involved in some sort of Social Media platform, it has become an integral part of business strategy, no matter what industry you are in.
With video consumption on mobile devices continuing to grow, Twitter not only allows you to record and Tweet video instantly, they have also grasped the opportunity to include video embedding straight from the social platform to your website. It's clear to see that Twitter want to keep people on their platform instead of transferring them over to Youtube.
We are also seeing brands move from posting on Facebook to Instagram due to the lack of organic reach on Facebook. With most of the reach on Facebook only accessible through paid avenues, brands have adapted their efforts to concentrate on their Instagram audience. This is particularly relevant for highly visual brands, but with the right planning and implementation, Instagram can be an asset to any business. The advertising opportunities on Facebook are becoming more and more advanced as marketers can now advertise specific products to specific individuals. A good balance of paid and organic posting is essential when targeting your audience on social media.
Being 'Mobile Friendly' Is Increasingly Important
Google are putting more emphasis on the importance of websites being 'mobile friendly'. As mentioned earlier, this isn't Google just randomly making up the rules, it is a response to the users' expectations and demands. People enjoy the convenience of browsing on their mobile devices and Google want to ensure that they have a positive experience when doing so. To try and enforce this, Google will soon be rolling out a new mobile algorithm which will really put websites' mobile friendliness to the test.
Again, Google want webmasters to be able to improve their websites so they have informed them of the upcoming changes and have even provided the tools for them to test their websites mobile friendliness. Google have also included a 'Mobile Friendly' notice next to websites in the search results page that pass the test. It's clear that Google want webmasters to act on this, and Google usually gets its own way!
Be Proactive, Educate and Challenge
What I have learnt from this ever changing digital environment is that you cannot afford to simply let things go wrong and sort them out afterwards, you need to put in some hard work and research to prevent problems from occurring. It takes a lot of time and effort to build up organic rankings and you can't afford to have that destroyed in a matter of moments because Google has changed the goal posts. That's why your business needs a proactive agency who are constantly striving to 'Do Digital Better'.
At Adido, we aim to meet our values of 'Educate' and 'Challenge' to achieve more for our clients. We are always pushing ourselves to be on top of industry updates and learning new technologies to benefit our clients as we understand the importance of digital for pushing the business forward.
If you're interested in finding out more about any of the features and functionalities raised here then give us a bell. As with many new technologies and tools you won't know how they could help your business unless you give them a go!